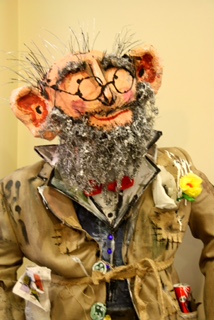 Walliams at the Williamson
Walliams at the Williamson is now on display at the Williamson Art Gallery and Museum
An amazing 426 children, parents, teachers and Headteacher's arrived to celebrate the opening of the exhibition on the 5th July 2017. 
From Gangsta Granny to Mr Stink, the Gallery is filled with truly inspiring pieces of artwork that interpreted the stories of David Walliams. The artwork is so spectacular that is has even caught the eye of David Walliams himself who said "I am speechless. They are genius"
Organised by Edsential, a Community Interest Company, the exhibition was opened by Former Football Association Chief Executive and owner of Tranmere Rovers Football Club Mark Palios. Pupil's from Bidston Avenue, Park Primary, St Alban's Catholic Primary, Riverside Primary, Hillside Primary, Devonshire Park Primary, St George's Primary, Heygarth Primary, Greenleas Primary and New Brighton Primary had worked alongside artists and their class teachers to produce the artwork.
Stuart Brady – Headteacher at Bidston Avenue Primary School said "We were delighted to be part of the Walliams at the Williamson project. It was a great opportunity for our children to work, up close, with an artist-in-residence to create something that was going to be on public display.  The children loved learning about new art techniques and then having the opportunity to put the skills into practice.  It was humbling to see their faces as they spotted their work up on display in the Williamson Art Gallery.  Thank you to Edsential for bringing us closer to art and to the books of David Walliams."
The exhibition will be in place for the whole of the Summer Holidays at the Williamson Art Gallery & Museum.
This project and others Edsential have run, support schools in gaining Artsmark and enable students to work towards an Arts Award at Discover and Explore Levels. The intention of the project is to inspire children to create, raise their aspirations and add to their mental health and well being.
There will be further projects in the next academic year so look out for them on our Creative and Performing Arts pages. Projects start from as little as £500 per project.
Debbie Cottam, Head of Visual and Performing Arts & Operations Manager at Edsential said: "The intention of the project was to inspire children to create, raise their aspirations and add to their mental health and wellbeing. It has been wonderful to see the children and their families so engaged in the project, they should all be very proud of themselves and the work they have created, I would highly recommend people come to the gallery over the summer to see the artwork"