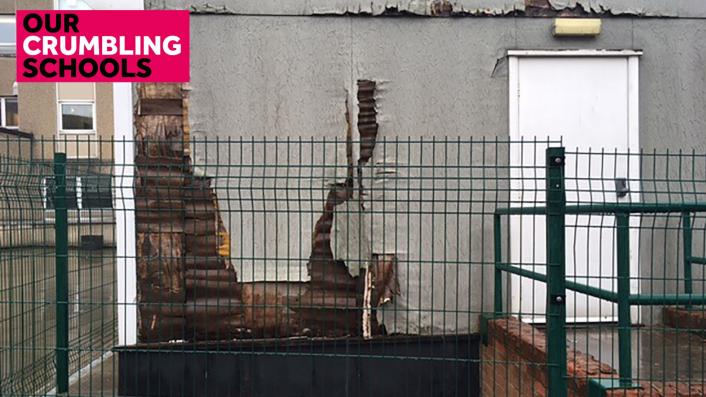 70% of School Buildings 'Not Fit for Purpose'
Heads warn that they are teaching in buildings with leaks, crumbling wall, asbestos issues and damp
More than two-thirds of England's schools have buildings that are "not fit for purpose", the results of a new survey suggest.
The research by Tes and the Association of School and College Leaders (ASCL) found headteachers warning that they are teaching children in buildings with leaks, crumbling walls and asbestos issues.
The vast majority (88 per cent) of the 221 state-school heads in England surveyed say funding pressures have forced them to cut routine building maintenance, storing up further problems for the future.
ASCL's general secretary Geoff Barton said the survey's findings revealed a "state of national decay in our school buildings".
"What does it say about us as a country that with the sixth largest economy in the world, 78 per cent of our members say they do not have enough to carry out the essential repair works in their schools?" he said
The research found that the 70 per cent of heads with school buildings not fit for purpose identified the following problems:
Leaks: 74 per cent
Asbestos: 68 per cent
Lack of space: 66 per cent
Crumbling walls: 59 per cent
Faulty boilers/heaters: 57 per cent
Electrical problems: 43 per cent
Reliance on mobile classrooms: 43 per cent
Damp: 39 per cent
Nearly half (46 per cent) of the heads with buildings not fit for purpose had had to close part of their school in the last year.
Less than 1 per cent of all heads surveyed had enough capital funding to carry out all work needed and 78 per cent did not even have enough capital funding to carry out all essential work
Other problems highlighted included windows and doors in need of replacement; insufficient sports facilities and poor condition of playing fields and playgrounds; poor ventilation in classrooms and corridors; classrooms too hot or having excessive temperature swings; poor dining facilities and poor condition of toilets.
Mr Barton has now called on the government to launch a major new capital programme to address the situation.
A Department for Education spokeswoman said: "We are investing £23 billion in the school estate between 2016 and 2021 to deliver new school places, maintain and improve school buildings, as well as rebuild and refurbish buildings in the worst condition through our Priority School Building Programme.
"This funding supports our priority of ensuring there are sufficient school places and that the school estate is safe and enables a high-quality education.
"We have also begun a new school Condition Data Collection, which will provide updated data on the school estate and allow us to better understand where funding is needed most."
Taken from: https://www.tes.com/news/exclusive-70-school-buildings-not-fit-purpose