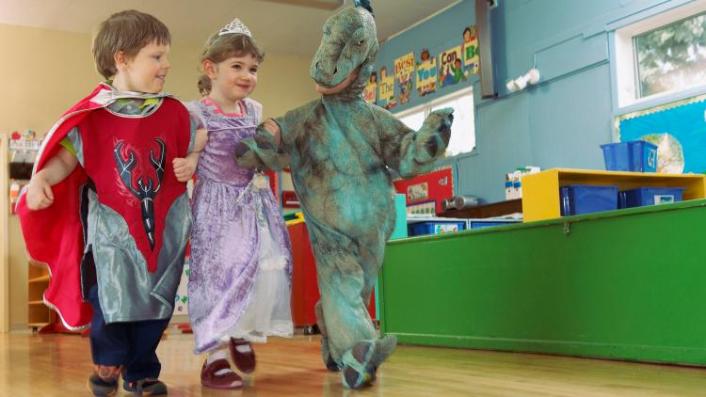 Ofsted: 'Embarrassed' Nursery Teachers Don't Sing
The inspectorate's deputy director of early education blames iPhones for inhibiting shy staff
Phones have made nursery school staff too "embarrassed" to sing to young children, Ofsted's deputy director of early education has warned.
Gill Jones 
also told an early years conference today that we have lost things like country dancing when teaching children.
Speaking at the event organised by NAHT headteacher's union, she said: "They really need singing, because singing is so important for young children and I rarely go into settings and schools and hear singing.
"If you sing to children every day, and with them, and get them to sing every day, and not just to tapes but you use your voice, again, it's a really important thing: it helps articulation, helps rhythm.
"Children that can sing I'm sure read better, though I have no research to prove that whatsoever, but I'm just putting it out there because I'm sure it's right."
Speaking afterwards to Tes, she blamed the easy availability of music for the decline of singing in nursery schools.
"We are embarrassed," she said. "A lot of people who work in nurseries are not the most confident.
"Singing in front of people is quite difficult because we have a different culture now.
Young children 'need singing'
"I suppose the difference is because there is so much easy access to music. You can play it on your iPhone and it stops people singing because the quality is not as good.
"But actually, it's the doing that makes the difference for a child's language development and confidence."
Ms Jones said that singing helps children to learn rhythm, patterns, pitch and "the importance of being quiet before a song starts", as well as giving them confidence.
She added: "It also helps them to learn to read because they are articulating and learning phonics."
Ms Jones also told the conference: "The other thing that we've lost, I think, along the way – and before EYFS [Early Years Foundation Stage] we did do things like this when we taught young children – are things like country dancing, dare I say.
"As a Reception teacher, I used to identify the children that couldn't march in time; you know, the ones that even by the end of the year had two left feet, they used to say.
"Quite often that was related to their ability in learning to read as well."
Taken from: https://www.tes.com/news/ofsted-embarrassed-nursery-teachers-dont-sing