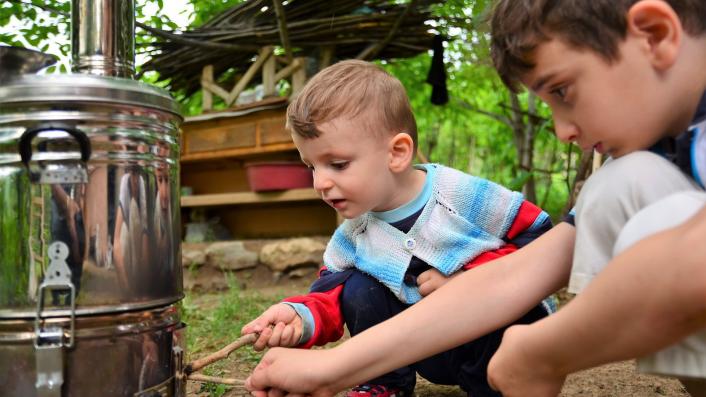 Outdoor Play Officially 'Fundamental' to Learning
Some 50 influential organisations and people in Scotland sign up to national commitment on outdoor learning
Playing and learning outdoors is to become "a fundamental part of growing up in Scotland", after 50 influential organisations and people signed up to that commitment today.
A national "position statement" states that they will combine their efforts "to make playing and learning outdoors an everyday activity for Scotland's children and young people".
Among those behind the move are the Scottish government, anti-poverty organisation Inspiring Scotland, the Royal Zoological Society of Scotland, Glasgow Science Centre, NHS Health Scotland and various education bodies.
The statement asserts the health, wellbeing and educational benefits of outdoor play and learning and commits signatories to helping to widen access to "natural and communal spaces" and to make towns and cities more attractive to play in.
Earlier this year, the Scottish government announced funding for Inspiring Scotland to develop outdoor nurseries in eight local authorities. This is part of the national expansion of free childcare hours – a policy whose ambition has been widely lauded but which many fear will be difficult to implement in practice.
Outdoor play 'encourages risk-taking'
Inspiring Scotland chief executive Celia Tennant said that outdoor play helps children to "take risks, test boundaries, think creatively and problem-solve".
She added: "There are also wider benefits for society – a generation of children that grow up not just familiar with the outdoors but passionate about it; a generation that love and understand the world around them is a generation that will protect and care for it."
Dr Catherine Calderwood, chief medical officer for Scotland, said other benefits of outdoor play include using the natural world to "develop curiosity and science skills".
Another signatory to the statement was Peter Higgins, professor of outdoor and environmental education at the University of Edinburgh's school of education. "There is a reason parents take their babies and toddlers outdoors to play, and children and adults of all ages continue to seek out local green spaces, the countryside, seashores and wild land – it satisfies a deep need within us and is fundamental to our wellbeing," he said.
"Scotland's progressive approach to outdoor play and nursery provision, especially if developed through further provision in formal education, will bring lasting dividends in health, wellbeing and learning, and even our national identity."
Children's minister Maree Todd launched the position statement today at Muddy Buddies outdoor nursery in Drumchapel, Glasgow. She talked up the benefits of outdoor play in terms of "improved health and wellbeing, building resilience and connecting with nature".
The statement comes after the publication in September of the latest edition of the annual Scottish Health Survey, which included some striking statistics on children and physical activity.
Only a third of children aged 5-15 reached the recommended level of at least 60 minutes of physical activity every day of the week in 2017 – a figure that dropped to 18 per cent for those aged 13-15.
Taken from: https://www.tes.com/news/outdoor-play-officially-fundamental-learning