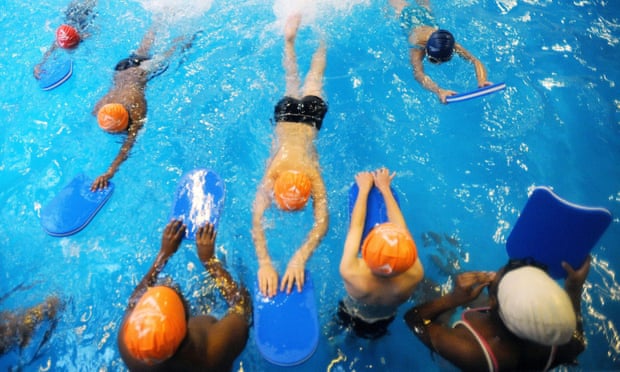 Private Schools Told to Open Their Swimming Pools to State Pupils
Move reflects fears for half of British children unable to swim 25 metres by the age of 11
A new drive to encourage private schools to share their swimming pools is being launched by the government amid concerns about the number of children who emerge from primary school unable to swim.
This weekend the education secretary, Damian Hinds, who has three young children, called on private schools to open up their pools to state pupils in their area.
Fewer than half of all British children are able to swim 25 metres by the time they reach the age of 11. Schools will get a share of a £320m fund to help boost swimming lessons, he said.
While the Department for Education has not proposed any new measures to compel private schools to open their pools, Hinds said he was personally determined to "make sure our children grow up safe and water confident". "Many independent schools are already doing this, but others can and must do more to help every child in their community," he said.
The issue is likely to reopen the debate on whether private schools' ability to claim charitable status should be predicated on their willingness to share their sports facilities with state school pupils.
This year's figures from the Independent Schools Council, which represents 1,326 private schools in the UK, show that of 603 of its member schools that have pools, 304 already share them in some way with state school pupils.
Meanwhile, 72% of primary schools use public pools for swimming lessons, while 15% use their own pool and 10% use another private facility.
In 2015, Lord Moynihan, the outgoing Conservative chairman of the British Olympic Association, moved an amendment to the Charities Bill to require private schools that have charitable status to share their sports facilities. It was defeated 156 to 105. 
The Charity Commission updated its guidance in 2015 to encourage independent schools to report how they are opening up access to their sports and arts facilities, but stopped short of requiring that they do so to keep their charitable status.
Julie Robinson, general secretary of the ISC, said that there was "much goodwill from schools fortunate to have facilities that may be in short supply locally". She added that "raising awareness of partnerships helps more state schools and independent schools develop mutually beneficial programmes".
"Headteachers who have opened up their facilities tell us it's a win-win for the schools and the community," said Charles Johnston, director of property for Sport England, a public body under the Department for Digital, Culture, Media and Sport. "It allows facilities to be used at times when otherwise they'd be empty."
But Ali Oliver, chief executive for the Youth Sport Trust, said that "much more needs to be done to remove barriers to sport and play and ensure that people are not deprived of opportunities based on their gender, ability, background or where they live. It is vital that programmes to raise levels of activity are targeted at those most in need."
Tom Watson, Labour's deputy leader, who is responsible for sport, said: "This barely moves the dial on the pressing need to improve the health of our children, when six out of 10 are leaving primary school either overweight or obese.
"If you really want to improve children's health, make guidelines on nutrition in schools mandatory, not voluntary."
Taken from: https://www.theguardian.com/education/2018/oct/20/private-schools-urged-to-open-pools-to-state-pupils
For further details on Edsentials school swimming service, click here