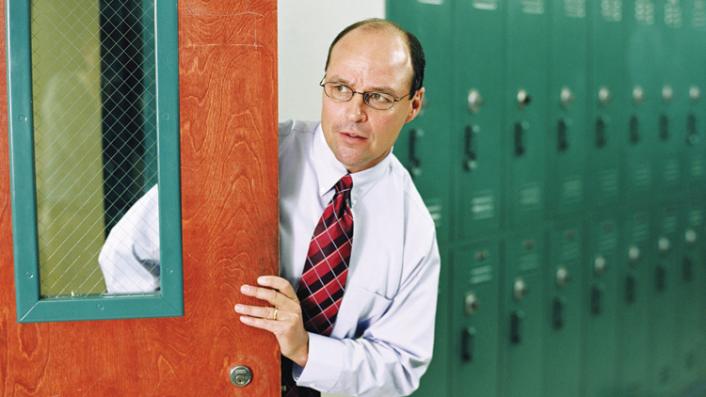 Say 'Hello' at the Door to Say 'Goodbye' to Poor Behaviour
Research suggests that greeting students at the door leads to calmer classrooms
The class jostle at the door, and then melt into a line as the teacher approaches. A pile of books under her arm, she greets each student while dishing out books and essays to their owners.
"Morning, Callum. Hello, Faye. Wait, tie…that's better. Nice to see you Femi; good essay."
The students head to their places and begin a quiz that the teacher has left displayed on the board.
Next door, the class call from the threshold: "Can we come in yet?" while a distracted teacher stoops over his computer replying to an email that has just appeared marked "urgent". The students make the most of his distracted state and start taking out their phones and snap-chatting each other. The teacher looks up, and then tries to calm them down and usher them into their seats.
Making the best start
One of these lesson starts is clearly preferable to the other. That is why so many schools request that teachers begin each lesson by greeting students at the door. Doing so can be useful for purely practical reasons. It allows you to tick off a number of admin jobs as you greet students, such as returning paperwork and handing out textbooks.
More importantly, though, research suggests that this strategy is good for behaviour management.
Clayton Cook, a professor in the Institute of Translational Research in Children's Mental Health at the University of Minnesota, assessed the effects of greeting students at the door on behaviour in a small-scale study of 203 students in sixth to eighth grades (Years 7, 8 and 9) in 2018.
Teachers taking part in the study's intervention group were provided with training sessions on the technique of greeting students at the door, while control classes were given the same amount of time to spend on general behaviour management practice.
The study found that over two months, teachers' ratings of students' behaviour positively increased in the intervention group, while those for the control group remained constant.
It's all about relationships
Cook believes that the success of this strategy could be all down to relationships.
"Teacher-student relationships are critical to creating a positive classroom climate in which students feel a sense of belonging," he says. "People who care about one another make a point of greeting one another."
Moreover, he adds, when students enter the classroom from "less-structured settings" such as the playground or the hallway, they can "bring behaviours with them, like acting silly, talking loudly, or simply misbehaving", which disrupt learning and which teachers then have to correct before the lesson can begin.
"When the class gets off to a rocky start, the remainder of the class time is likely to be the same," Cook points out.
A greeting moment
And the strategy seems to translate beyond the research.
Sana Master, head of English at a school in Yorkshire, has found greeting students at the door to be very successful.
"It's a way to signal to them that they're entering my territory, but also to smile and say hello to whoever is passing by. Greeting at the door is a way to indicate this is a fresh start after whatever might have happened in a previous lesson," she says.
There are also benefits that stretch beyond an individual teacher's lesson, Master continues: "We're in a new corridor and it's in the heart of the school. I have four routes converging outside my door and we all need to be out making sure kids are moving on as well. By greeting at the door we are making sure we get our classes in quickly, and reduce the clog outside."
So there is evidence to suggest that the strategy works. But what about those teachers who like to personalise their classroom management techniques? A quick search on Youtube will show you that there is scope here for that, too: teachers greeting students with elaborate handshakes and fistbumps.
Is it time to start practising your secret handshake, then?
Although more creative alternatives, or versions where the greeting is used as an opportunity to check homework or test pupils with a quick recall question, might work for some teachers, it could be best to try these further down the line, once the basic routine is firmly established.