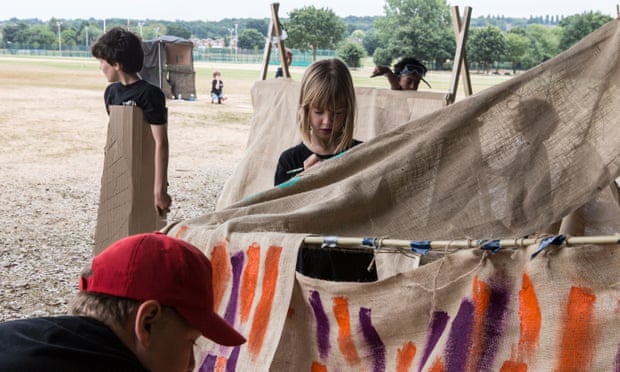 The Observer View on Ending Long Summer Holidays
The six-week summer break sees low-income families struggling to pay for outings and even extra food
For well over a century, schoolchildren have greeted the dawning of the summer break with joy. Many aspects of the Victorian school system – blackboards and easels, caning and corporal punishment – have fallen by the wayside. But the long summer holiday, originally adopted in order to allow children to help with the harvest, has remained a fixture of the education system long after child labour was outlawed in the UK.
It's tempting to romanticise the extended break as a precious time out from the pressure of tests, a chance for children to enjoy spending time with their friends and learn important life skills outside the classroom. But as the holidays draw to a close, a report from the children's commissioner for England warns of important shifts in the way children spend their summer holidays.
In this age of screens and social media, children are spending less time playing outside and more online, with many leading a "battery hen existence". On average, children from five to 15 years old spend almost three hours a day online at the weekend, but just four hours a week playing outside – half the time that their parents did. There are inevitable consequences: research suggests children experience "dramatic and significant" reductions in their fitness over the summer break.
Unsurprisingly, it is children from poorer backgrounds whose fitness suffers the most. Low-income parents face a greater struggle to make ends meet during the long school holiday than in term time: half say they stay in more often during the school holidays than in term time because of the expense of taking children out for summer activities. As safety concerns mean parents are less likely than ever to let their children play outside unsupervised, it is the children of more affluent parents who are most likely to stay active, thanks to expensive camps and sports courses.
There are other pressures on the family budget: parents whose children normally get free school meals have to somehow meet the extra food costs, estimated to be £30-£40 a week for each child. Two in five low-income parents say they skip meals over the summer break to ensure they're able to feed their children and, according to the Trussell Trust, food bank use spikes every summer.
The children's commissioner makes a number of sensible recommendations, including providing more funding for subsidised summer holiday clubs and meals for children from disadvantaged backgrounds. The government should also consider increasing benefits for low-income parents over the summer break.
But another, complementary measure should also be on the table. There's an established body of research from both the US and the UK that shows children forget some of what they have learned over the long summer break – the "summer slide" – and that this learning loss is, again, biggest for children from poorer backgrounds. In other words, the long summer break comes with an inequality double whammy: it increases the social gap not just in terms of physical health and fitness, but in educational attainment, too.
Shortening the summer break to four weeks could help reduce these effects. One method would be to restructure the existing school year into five eight-week terms – two before Christmas, three after – each separated with a two-week holiday. This would give teachers and children a similar amount of holiday, just spaced more evenly over the year. And it would make life easier for all parents who struggle to find childcare for six weeks on the trot. Currently, school term dates are set at the discretion of councils and academy trusts. Some councils, such as the Isle of Wight and Nottinghamshire, will be experimenting with a shorter break next summer. Were the government to roll out a shorter break nationally, it would prompt sighs of relief from many working parents. The long summer break is a relic that disadvantages poorer children and makes life difficult for modern working families. Its time is long past.
Taken from: https://www.theguardian.com/society/commentisfree/2018/aug/26/long-school-summer-holidays-inequality-poorer-families