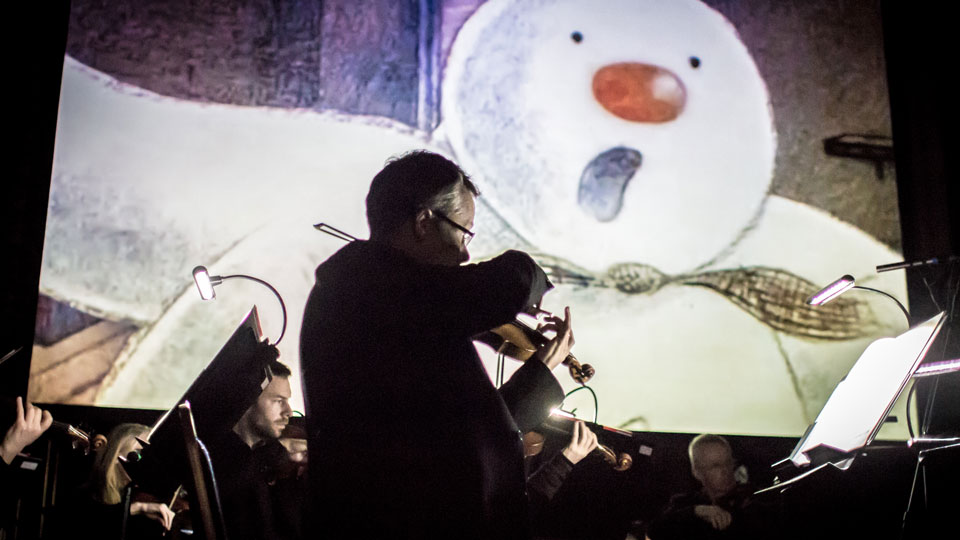 The Snowman Tour
The Snowman Tour are bringing something magical to Hanley this December!
"The most amazing concert ever. Everyone was enjoying it, even the orchestra. You could tell because every single person had a big smile on their face!"
Following on from our sell out 46 performance tour last December, we are delighted to be returning to the Victoria Hall, Hanley this Christmas.
We would like to invite your pupils to a unique and special event – a screening of the much loved film, The Snowman, accompanied by a live 26 piece professional orchestra. The Snowman Orchestra comprises hand-picked, first class musicians, many of whom are members of the BBC Philharmonic, Hallé and BBC Symphony Orchestras amongst others.
This is a wonderful opportunity for your pupils to experience the thrill of live music underpinning an iconic film and the power of music close-up. The performance provides the perfect opportunity to fulfil one of the main aims of the music National Curriculum: "to appreciate and understand a wide range of high-quality live music from great composers and musicians".
The concert will open with a toe-tapping Christmas Medley followed by a fun introduction to the orchestra. All the instruments are presented in a fun and approachable way, offering the young audience members the valuable experience of seeing – and hearing – the instruments individually.
Following this there will be a world premiere of a brand new work created especially for us: A Donkey's Tale. Set amidst the wild landscape of Connemara in the west of Ireland, it tells the heartwarming story of Dillon, an ordinary donkey with an extraordinary dream that takes him on a journey that will change his life. This stunning animated film with accompanying musical score looks set to become a firm favourite for all ages.
The Snowman film will then be projected onto the screen, accompanied by a local child soloist singing the timeless "Walking In The Air".
This is a very special opportunity; we do hope you will take advantage of this offer to let the children from your school enjoy a truly magical and unforgettable experience.
Location:

HANLEY
VICTORIA HALL, BAGNALL ST, HANLEY, STOKE ON TRENT ST1 3AD
Monday 17th December 2018 | 1:30PM
In order to secure a booking, please click here to register your interest