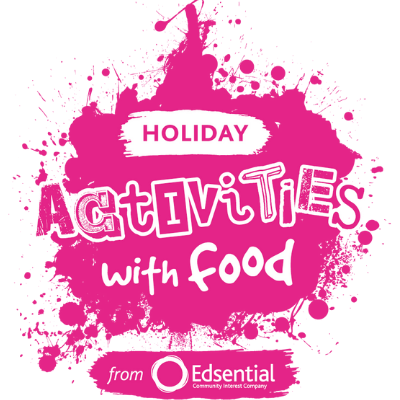 Thousands of children and their families are set to benefit from Edsential's Holiday Activities and Food programme this summer
Children aged 5 to 16, who are eligible for benefits-related free school meals, are invited to take part in an action-packed summer holiday this year, as part of Edsential's Holiday Activities and Food programme (HAF), coordinated on behalf of Cheshire West and Chester Council and Wirral Council. 
Thanks to crucial funding from the Department for Education and the Councils, Edsential are supporting 100 voluntary, community, and faith-based organisations to run more than 135 clubs across West Cheshire and Wirral. Children and young people will be able to enjoy nutritious food and fun physical, mental, and educational activities such as arts & crafts, swimming, yoga, dance and drama workshops, family days and much more! 
Edsential, Cheshire West and Chester Council and Wirral Council aim to benefit thousands of children and families by supporting their physical development and wellbeing along with providing knowledge on health and nutrition. Heather Lewis, Holiday Activities and Food Manager at Edsential said:?? 
"It is so exciting to be given this opportunity to coordinate the summer Holiday Activity with Food programme again, on behalf of Cheshire West and Chester Council. This summer's HAF programme is bigger and better than ever before with an even wider range of enriching holiday activity clubs planned for children, young people and their families. Make sure to visit our website to find the perfect club for you!" 
During the spring holidays, Edsential's HAF programme supported over 7,000 children and their families across West Cheshire and Wirral.  
Councillor Robert Cernik, Cheshire West and Chester Council, Cabinet Member for Children and Families said:  
"We are delighted that the Holiday Activities and Food Programme is returning for the summer holidays in 2022. The programme has continued to grow and develop over the last few years to ensure the best possible support is provided to families, children and young people over the holidays. The Council remains committed to contributing to this fantastic programme. 
"The holiday activity clubs that are funded through the HAF scheme ensure that children and young people have the opportunity to enjoy and learn new skills over the school holidays, whilst making new friends and most importantly having fun. 
"The scheme provides healthy and tasty meals for children and young people to support their wellbeing and development, as well as providing the opportunity to learn about food and nutrition in a fun and active way, setting them up for a healthy future to make sure that they get the best start in life." 
Councillor Kathy Hodson, Chair of Wirral Council's Children, Young People and Education Committee, said:  
"We all know it can be difficult to keep children active and entertained over the long school break, so our summer programme is an ideal way to keep them engaged and learning, and having lunch provided each day means there is one less thing for parents to worry about." 
Did you know that on average, parents spend up to £500 per year, per child on school meals? There are so many children that are eligible but do not benefit from this crucial funding. Edsential's aim is to make as many families as possible aware of their child's entitlement, to hot, tasty, nutritious meals in school through term time, as well as the great activity opportunities available to them in the school holidays. 
Check your eligibility and find out the perfect club for your child this summer at  www.edsential.com/haf2022/