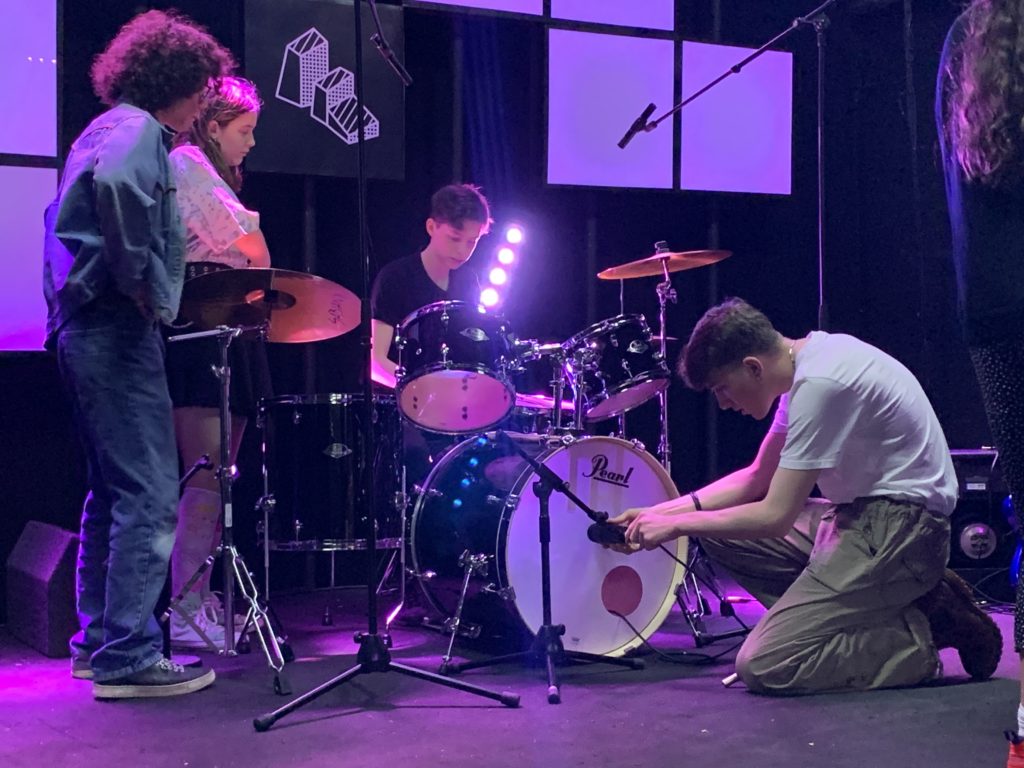 Young musicians take part in their first-ever live gig
Edsential's young musicians from 'New Noise' and members of Future Yard's 'Sound Check' training programme performed live music to a large audience on Saturday 2 April.
They have been working alongside each other over the past 11 weeks at the New Noise Music Centre in partnership with Future Yard, leading up to this spectacular day designed to showcase all the amazing work of the different bands.
The New Noise Junior project was created to support the next generation of music makers, offering a space for young people aged 14-16 to experiment across a range of instruments and music-making techniques – including guitar, bass, keyboards, drums, DJing and rapping – in sessions led by a team of hugely experienced and passionate tutors.
The centre gives young musicians access to equipment that they may otherwise never get access to, such as live sound and lighting and mixing desks. Participants are encouraged to try as many disciplines as possible, with an opportunity to focus on a particular skill to use for the live show.
The project has helped show young people how to apply their love for music in a professional environment and explore what a career in music could be like. 87% of the young people who took part said they felt very confident approaching new people, 78% said they gained a new skill and felt the project has really helped them to develop into confident musicians.
Ian McGrady, Managing Director at Edsential said, "Thanks to the strong partnership between Edsential Musical Routes Music Education Hub and Future Yard, this joint project has taught young people the essential life skills involved in coordinating an event, like networking, confidence-building and collaboration. It's great to see young people being able to explore real vocational avenues from their passion for music. The gig was a huge success which is testament to the hard work the young people have put in over the past term."
Some of the junior member's feedback from the event included; "I loved using the skills I've learned in each session and putting it into actual practical work." And; "I have enjoyed being able to try new instruments and make new friends, through smaller group and band work."
Helen Chetwood, Music Area Lead at Edsential said, "A career in the music industry is about so much more than playing a musical instrument. Young people have been exposed to every aspect of running an event – from advertising to production and stage technician! We hope this project is just the start of their musical careers."
Edsential are taking on new members to join New Noise Juniors (ages 14-16) every Saturday morning at 9:30am for the next term, who will also get to host a live gig. All the details of the programmes and applications to apple can be found on the Future Yard website. www.futureyard.org/new-noise-music-centre