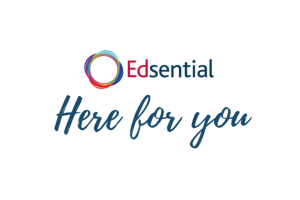 How are we supporting our community during this difficult time?
Edsential – Here for you
With the current challenges schools, families and communities are facing due to COVID-19 we wanted to reassure that Edsential are here for you, no matter what: https://edsential.com/here-for-you/
For us, our mission of improving outcomes for children and young people extends further than the classroom. To support schools, families, teachers, and children & young people at this time, we have asked our specialist teams to take some of their knowledge and expertise online, so you can still have access to the services we provide.
Supporting Families
Our lead teachers and practitioners have come together (virtually!) to plan weekly themed ideas for families to explore and give exciting opportunities to learn and play together.
We are delighted to introduce #EdsentialAtHome; a FREE weekly educational activity pack that can be downloaded and completed at home. Each week will be centred around a different theme and will have activities, using everyday objects and low-cost resources, around the below key areas:
– Make and Create – exploring the arts and cookery through a range of practical activities
-Time to Move – PE and Dance sessions to keep moving indoors and out as well as healthy eating recipes for you to make at home to keep you well
-Let's go Outside – time to find out what is happening out your garden or in the street where you live.
-Adventures at Home – activities to encourage you to embrace adventure, challenge yourself and develop your character and to build your resilience, confidence and curiosity.
The work sheets can be enjoyed by children and young people of all ages. Find out more and download the first Easter Activity pack here: https://edsential.com/edsential-at-home/ We would love for you to share with the families in your school community.
The #EdsentialAtHome activities are supplemented by a number of daily challenges on our Facebook and Twitter pages, designed;
#EdsentialDailyChallenge – to keep us fit and try to beat the sports and PE tutors at their own games!
#CultureDailyChallenge – to discover something new about the Arts and the world around us
#SingingDailyChallege – to find songs around a theme
#ConwayAdventuresAtHome – to experience the benefits of our residential centres at home
We will be posting videos of activities every day, so children and young people can see some familiar Edsential faces. Follow us on Twitter: https://twitter.com/EdsentialUK and like us on Facebook: https://www.facebook.com/EdsentialUK/ for all the latest updates.
Supporting Children and Young People
Our school catering teams are ensuring children in schools receive their school meals, or are making weekly packed lunches to FSM children at home if required.
We are also, where possible, trying to ensure children and young people can continue with the lessons they would normally enjoy in school. We know how important music can be for children and adults alike in getting us through difficult times. If any children are currently having instrumental/vocal lessons with an Edsential tutor, we have already taken their lessons online, with our First Access (Whole Class Ensemble Programme) launching after the Easter break.
For further details and information on how children in your school can sign up, click here: https://edsential.com/online-music-activities/
Supporting Schools
Our Catering and Cleaning Staff have been in your schools ensuring our vulnerable and key workers' children get their school meals and have a safe and clean environment to work in. We will continue to support schools that remain open over Easter break and thereafter. We recently contacted schools regarding invoicing for this period, if you have any questions do not hesitate to get in touch with us at hello@esential.co.uk

We hope you'll agree that our catering and cleaning staff, affectionately known as our #EdsentialHeroes, have gone above and beyond for our schools through this period. We can't thank them enough. Here's some of our favourite photos the team have sent in to us over the past couple of weeks: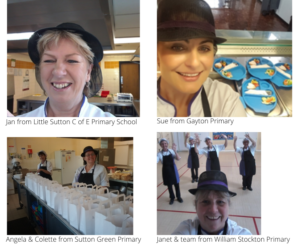 Keep an eye out for some familiar faces from your school on Twitter: https://twitter.com/EdsentialUK and Facebook: https://www.facebook.com/EdsentialUK/
Find more information about the services we are providing in schools at this time here: https://edsential.com/coronavirus/
Supporting our Local Authorities
Working with our local authorities, we are providing residential services for vulnerable people, newborns and their mothers in our residential centres at this time.
We have been donating any personal protective equipment we have available, with some staff even 3D printing face shields. Hundreds have already been donated to care homes, chemists, GP surgeries, hospices and more.
Supporting Teachers
We are trialling taking our music CPD online. Our Music advisers have created a series of opportunities to join an E-learning session on Primary Music Curriculum planning. Click here for available dates and to find out more: https://edsential.com/?s=osmc
We'll continue to expand our online CPD based on your feedback. Watch this space!
Supporting Governors
In these ever-changing times we want to provide reassurance that our clerking service will continue to provide advice and guidance to your Governing board.
Our governance team have been supporting schools with facilitating meetings over conference call. As always, our team will continue to provide advice and guidance to your board. Governing bodies can also find valuable guidance on the continuity of governing meetings from the NGA here: https://www.nga.org.uk/getmedia/08682f90-7df0-4af3-9de4-f7712bf0d129/Covid-19-Guidance-on-decisions-and-meetings-March-2020.pdf