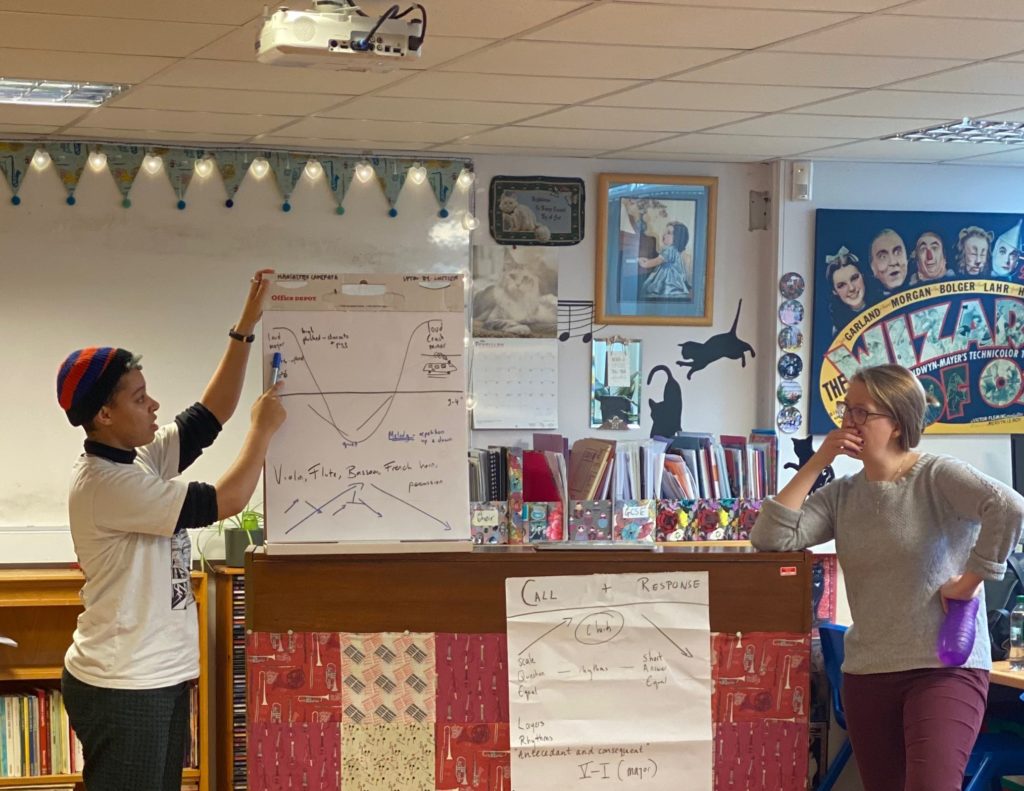 Edsential launches its second project with Camerata Orchestra celebrating the rich diverse tapestry of classical music.
The second Hidden Histories project commenced in February, funded by Edsential Musical Routes in partnership with Camerata Orchestra. The first project with award winning composer, James B Wilson was a huge success, and more schools have got involved in the second project.
Year 9 and 10 Edsential music students from Ellesmere Port, Bishop Heber, Tarporley and Upton-by Chester High Schools have been taking part in workshops led by Lavendar Rodriguez, a singer/song writer and composer of contemporary classical music.
The project explores composers of the past who have been underrepresented and gives students the creative range to come up with their own narrative through experimenting with different instruments and musical ideas. Rodriguez will then combine these ideas into a piece of music to be performed by the Camerata Orchestra. 
Thanks to the project, the students have access to a range of different instruments, exploring brass, string, and percussion instruments through short live performances from Camerata musicians during the sessions. Students are able to identify the differences between the instruments' pitch ranges and how the music tempo can change the mood and narrative of a piece of music. Students got to experience working together as a team and the importance of listening to one another with in a music group.
Lavendar said about the new project "It has been great seeing the students persevere and engage with the workshops and really come out of their shells. I am very proud to be a part of this project and believe it has had a significant impact on the students' relationships with music."
At the end of the project, all schools taking part will get to attend a prestigious Camerata Concert and experience in-person the Orchestra perform the music they composed. 
The first project proved to be a huge success, increasing students' engagement, and giving them an opportunity to display their creative music-making whilst learning about the rich diverse tapestry of classical music. Importantly, they are learning how your background shouldn't affect your what you do and anyone can become a composer. Find out more about the last project here. Edsential Musicians write music for prestigious Camerata Orchestra. – Edsential
The project receives a lot of press coverage including the likes of The Music Teacher Magazine, who spoke to the schools to discuss the impact they are having on the next generation. Read the full story here: Stories through music: Manchester Camerata Hidden Histories | Music Teacher (musicteachermagazine.co.uk)