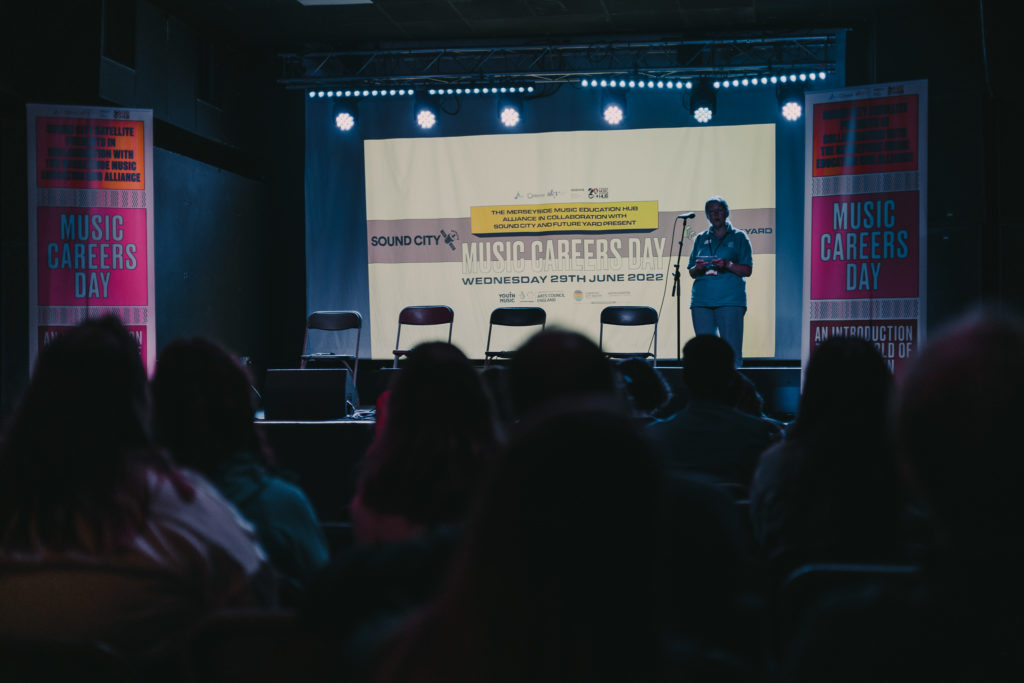 Kickstart your career in the music industry at one of your local music education hubs!
Sound City Satellite joined Edsential Musical Routes at the Future Yard Venue to deliver a focussed conference, live programme of activity and training for young people aged 14-16 as part of the
Merseyside Music Education Hub Alliance (MMEHA).
The careers day aimed to inspire young people to discover the opportunities out there to pursue a career within the music industry and provide a clear vision on what those various roles could look like. 
The day included a host of activities with various panels including 'Pathways into Music', which explored the educational paths in music, and 'A Day In The Life Of' which was a series of interviews exploring three different music industry figures and their careers in music. The event then concluded with live music from various local artists and bands. 
Future Yard is a live music venue, providing live industry training and a regional hub for artist development. Young people can take part in various projects including DJ/audio workshops, songwriting masterclasses, gig opportunities and so much more. 
Edsential Musical Routes run the New Noise Music Centre from Future Yard to support the next generation of music makers. This is a space specifically for young people aged 14-16 to experiment across a range of instruments and music-making techniques. Students can try their hand at guitar, bass, keyboards, drums, DJing and rapping in sessions led by our team of hugely experienced and passionate tutors.  
Following on from the careers day, young people had the option to apply for any of the music opportunities offered to them in their local areas to kickstart their career in music. If you're aged 14-16 you can join the New Noise Music Centre ran by Edsential Musical Routes or apply for Sound City's 10 week training course. If you're 16 to 24 you can join the Sound Check Project run by Future yard. 
The Merseyside Music Education Hub Alliance brings together the resources of music hubs across the Merseyside region,  in order to showcase the educational and career opportunities that are available within the music industry. It's easy for people to think they have to move to London in order to become successful within the Music Business, but this is all about instilling the self-belief and confidence in young people that they actually have so many opportunities to pursue on their doorstep. In turn, this also helps to develop a thriving infrastructure within our region.