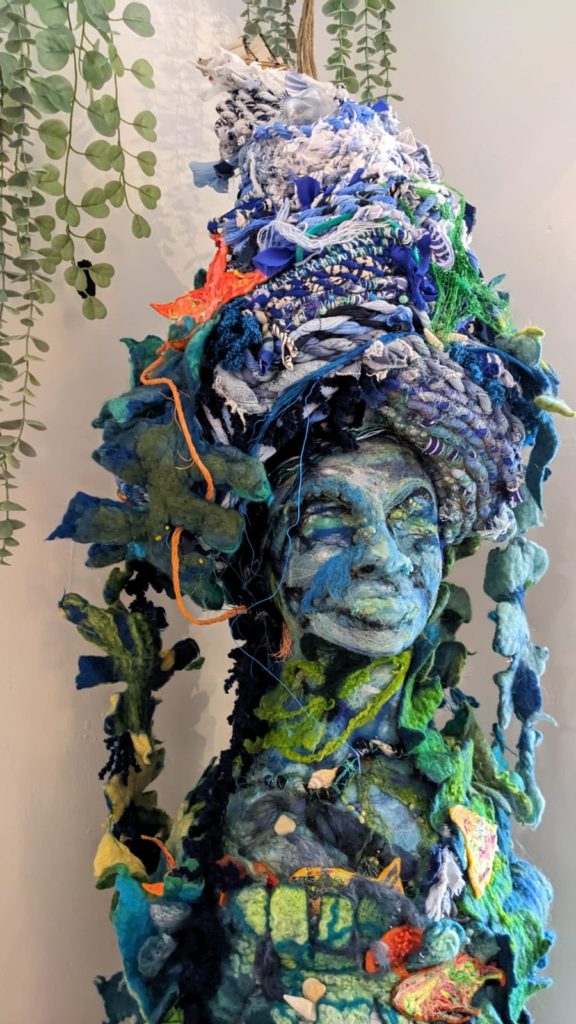 Chester Contemporary Schools Programme is running from September 22nd to December 1st 2023
Chester's thriving art scene is about to be infused with a new wave of creativity, as Chester Contemporary prepares to unveil a spectacular exhibition showcasing the talents of international and local contemporary artists. This ground-breaking visual arts event, spearheaded by visionary Chester-born artist Ryan Gander, promises to be a celebration of creativity, innovation, and community engagement.
The Schools Programme, a collaborative initiative in collaboration with Edsential that has brought together eight talented artists and primary schools from across the city, is one of the highlights of Chester Contemporary. They collaborated to create a series of captivating artworks inspired by Chester Rows' rich heritage, a project made possible by funding from Historic England and the National Lottery Heritage Fund.
"Mainsail," a collaborative effort between artist Dave Bixter and the imaginative Year 4 and 5 students at St Oswald's CE Primary School, is one of these mesmerising creations. The children's wax pencil and ink drawings on fabric, inspired by archive maps, have been woven together to form a patchwork mainsail. This artwork is a testament to the varied shorelines along the river Dee, and it is brought to life with an original sea shanty performed by the children and the artist, which is accessible via a QR code at Deva Travel.
"Deva-Dee-Diver," a striking representation of a Sea Lady emerging from Chester's waters, is presented by Lucy Dentith and the creative minds at Belgrave Primary School. This profound installation, made from recycled fabric and plastic bottles, is a poignant commentary on the environmental challenges that our oceans face. It can be found on Bridge Street at Pink Lettuce, drawing parallels between the past and the present.
Year 5 students at JH Godwin Primary School, led by Lucy Dentith, have investigated Chester's architectural history, discovering that the Rows were built to provide shelter from the rain during the 18th century. Their quilted umbrella fabric wall hanging, adorned with appliqué and felt, is proudly displayed outside Lowe & Sons on Bridge Street.
Guilden Sutton C of E Primary School's young artists collaborated with Sarah Gallagher-Hayes on a stunning, life-sized willow weave sculpture of a Roman horse and chariot. This magnificent work of art can be found in the churchyard at St Mary's Creative Space, and it is a testament to the fusion of history and contemporary artistry.
Under the direction of Olivia Glasser, students at Capenhurst CE Primary School investigated the textures found in the architecture of the Rows. They have brought to life the sensations felt when indulging in food using clay, print, and card. Inspired by the Rows, the resulting recipes and artwork for exquisite cakes are on display at the Rainbow Tea Rooms, providing a feast for both the eyes and the palate.
Cherry Grove Primary School's Year 4 pupils, led by Rachel Green, have created "Merchant Vessels," a captivating collection of 15 sculptural models that pay homage to the city's medieval port history. These models can be found in various locations across the city, from Cavani in Eastgate Row to Little Niki's Tea Rooms in Northgate Row and the Julie Colclough Gallery in Watergate Row.
Grosvenor Park Academy and Dee Point Primary School have embarked on a storytelling journey, creating 3D conceptual models of the Rows and an illustrated narrative to accompany them. These imaginative works are on display at Chester Visual Arts (CVA) in the Grosvenor Shopping Centre, providing a new perspective on Chester's historical wonders.
Students from St Werburgh's and St Columba's Catholic Primary Schools have taken on the role of city explorers, sketching their way through Chester with charcoal and graphite under the supervision of Clare Owens. Their enchanting work, which captures the magic of their journey, is a fusion of 2D and 3D mixed-media techniques and is available at Pictura Studios on Eastgate Row.
Claire Weetman and the creative minds at Mickle Trafford Village School investigated Chester's hidden treasures, from secret passageways to intriguing staircases. They created a sculptural artists' book that celebrates the essence of the city using a combination of text, image, and storytelling. This one-of-a-kind creation can be found at Waterstones on Eastgate Row.
The Chester Contemporary Schools Programme, delivered in partnership with Edsential, exemplifies the power of artistic expression and community engagement. It is an essential component of the Chester High Street Heritage Action Zone Cultural Programme, made possible by Historic England, the National Lottery Heritage Fund, and Arts Council England.
Chester Contemporary is supported by a variety of organisations, including the UK Government through the UK Shared Prosperity Fund, Arts Council England, and the Henry Moore Foundation. This collective support ensures that Chester continues to be a thriving centre of artistic innovation and cultural enrichment, reminding us all of the profound impact that art has on our lives and communities.