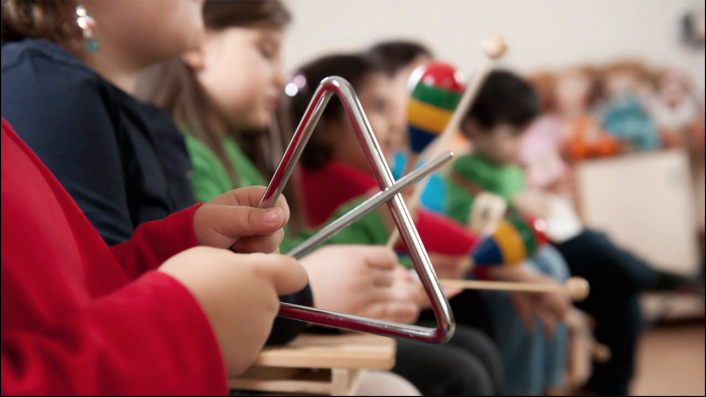 Early Years Should Get More Music, Says Arts Chief
There is 'huge value' in giving children under 5 more chances to experience music and culture, says Darren Henley
Early years should no longer be overlooked when it comes to music education, arts chief Darren Henley said today.
Mr Henley, chief executive of the Arts Council, told teachers and music educators at an event in London that the more he looked into early years, the more he was convinced of its "vital importance".
He pointed out that some children were born into families that were culturally aware and were given opportunities to take part in the creative arts from the start, whereas other children were not – simply because their families did not know what opportunities were available.
And he said he would like to see the government recognise the value of music for very young children in its national plan.
"We're currently talking to the government about the next iteration of the National Plan for Music Education, which will take us from 2020," he said.
"The plan currently covers 5- to 18-year-olds, but I believe there's a strong case for more significance to be given to early years, with investment in music education hubs to expand their remit to cover 0 to 5-year-olds."
Bringing music into the lives of under-fives
Mr Henley, in a previous role as managing director of Classic FM, led a review into music education, which resulted in the National Plan for Music Educationthat was published in 2011.
The plan created the music hubs, which are partnerships between local authority music services and local music organisations that deliver education to children aged 5 to 18 in their area.
Mr Henley was talking at the launch of the Tri-Music Together report, which outlines the findings of a two-year project, run by a music hub, to improve music education in early years settings in three London boroughs through providing training to early years staff and musicians. It says that the support of leaders is essential for quality early years music, along with a collaborative training ethos, and giving musicians time to observe children, not just expecting them to arrive and "deliver".
The report also warns that "a fixation on measurement and collection of data…means that areas of learning and development such as music may have got lost in recent years".
Speaking after the event, Mr Henley said that at the moment the focus of music hubs was on children from age 5 onwards.
"Bringing more music into the lives of every child under five has huge value," he said. "For me, it is about giving young people the best start in life, and cultural education is a strong part of that."
Bridget Whyte, chief executive of Music Mark, the music education charity, said: "There are many music services and other organisations in music hubs that are already delivering great early years programmes over and above the work they do for the Department for Education. It would be great if this could happen across the whole country, but it will need additional funding."
Beatrice Merrick, of early years organisation Early Education, said: "I think anything that shines a spotlight on the importance of music would be really useful in getting people in early years thinking about what they can do and engaging with all the possibilities."
Taken from: https://www.tes.com/news/early-years-should-get-more-music-says-arts-chief