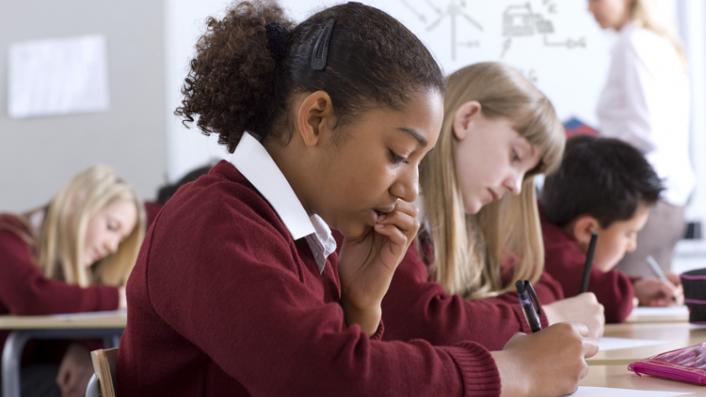 Exam Boards Market GCSE-Style Tests for Year 7s
Ofsted chief inspector 'deeply worried' by schools teaching children narrowly to the test from age 11
Eleven-year-olds are being drilled for their GCSEs five years in advance by being made to sit specially-designed tests modelled on the exams, Tes can reveal.
The chief inspector of Ofsted branded the use of such tests "deeply worrying", while the boss of one of England's headteacher unions said it was "dispiriting" that children were being given a "long five-year runway to their GCSEs".
Tes has found that at least three of the major school exam boards are marketing GCSE-style tests for key stage 3 students to schools looking to test children as young as 11.
For example, the biggest board in the country, AQA, produces a source-based English language paper for Year 7 pupils that is designed to be taken over one hour and 45 minutes.
The paper comes with a 21-page mark scheme covering six different assessment objectives.
Eduqas, part of the WJEC exam board, produces English language assessments for pupils in Years 7, 8 and 9.
Eleven-year olds can sit a 40-mark, one hour and 45 minute Eduqas test onCharlie and the Chocolate Factory, which comes with a six-page mark scheme so teachers can put their pupils in one of five different bands across two different assessment objectives.
Eduqas explicitly states on its website that "these resources have been designed to reflect the style of the GCSE in English language (9-1)".
Pupils 'not ready for that sort of pressure'
Pearson, the education company that runs the Edexcel board, provides "Pearson Progression Services", which includes end-of-term tests for high-, middle- and low-attaining students throughout KS3.
The news comes despite outspoken condemnations about the spread of GCSE courses into Year 9, from the heads of two of the exam boards involved.
Amanda Spielman, the chief inspector of Ofsted – who has previously raised concerns about the squeezing of KS3 – said she was alarmed by the rise of such tests.
She told Tes: "It's deeply worrying to see secondary schools being encouraged to teach children narrowly to tests right from age 11.
"This is cutting down children's exposure to a full, rich curriculum and reinforces the idea that targets, predictions and data points are more important than the substance of education."
Geoff Barton, the general secretary of the Association of School and College Leaders, said there was "something dispiriting at the thought that for a child in Year 7 it has become a long five-year runway to their GCSEs in Year 11".
He said the "high-stakes nature of testing" in Year 11 "inevitably" pushed some schools to bring forward their GCSE teaching "to make sure that pupils are as well prepared as possible in order that the school does as well as possible".
Chris Daye, a maths teacher who until recently worked at a school in Solihull that gave pupils GCSE questions from Year 7, said such intensive testing risked turning pupils off their studies.
"They lose that enthusiasm for learning if we're hothousing them in Year 7 and Year 8," she said.
Ms Daye also expressed concern about the impact on pupils' mental health.
"They're not ready to take that sort of pressure, they're not old enough to take that pressure," she said. "We're building a group that are going to haveserious mental health issues, especially when it comes to GCSE time."
However, the boards that produce the tests denied that they contributed to pupil stress.
Dale Bassett, AQA's head of curriculm strategy, said: "The new GCSE is more demanding and students have to demonstrate more complex skills than in the past – so it's natural that schools want to help young people develop these skills as early as possible.
"Our resources aren't actual exams, they're to help students become familiar with the look and feel of GCSE papers and the skills they'll need to answer questions – all while they're studying the normal KS3 curriculum."
A spokesman for Eduqas said: "Assessment is a natural part of teaching and learning, which informs the next stages of learning."
And a spokeswoman for Pearson said that pressure stemmed from the "consequence" of assessment, "not the assessment itself".
She added: "The focus of these KS3 assessments is not on intensive high-pressure testing, but appropriate low-stakes approaches designed to sit alongside textbooks and other resources to support effective teaching and learning."
Taken from: https://www.tes.com/news/exclusive-exam-boards-market-gcse-style-tests-year-7s