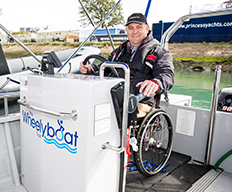 Powerability makes waves in North Wales
BBC Countryfile films the impact of new accessible Wheelyboat with North Wales Sailability at the Conway Centre, Anglesey.
Dedicated to providing mobility impaired individuals with opportunities to participate in waterborne activities, The Wheelyboat Trust assist groups and organisations to acquire Wheelyboats for their own use. The newly designed Coulam Wheelyboat V17 model is fresh off the production line and one of these new boats is being planned to make its way to North Wales Sailability at the Conway Centre, Anglesey. Providing disabled people with a highly versatile and capable craft that will enable them to make the most of their abilities and opportunities.
The new V17 model is designed to allow wheelchair users to take part in waterborne activities, the ease of access via a roll-on, roll-off bow door and large open cockpit make Wheelyboats remarkably versatile. The model can be operated independently by disabled people, and supports the Royal Yachting Association's scheme 'Powerability' by enabling more disabled people to get out on the water.
Wheelyboats and their innovative design attracted the attention of BBC Countryfile who were keen to find out more about how the Trust is changing the lives of disabled people in communities around the country. Presenter Steve Brown took part in the filming in Anglesey and was given powerboating tuition in a Coulam Wheelyboat V20 for a programme which will be broadcast this weekend, on Sunday 17 March.
The SEAS Sailability group and instructors from the Conway Centre tested the myriad uses of the V20 Wheelyboat on 28 February on the Menai Straits, including using the lowering bow door to test kayak rescues. While filming took place, the award-winning Sailability group held one of their activity sessions for members some of whom were able to experience powerboating in the V20 for the very first time. When their new V17 arrives it will enable Sailability members and volunteers to be able to attain RYA powerboat qualifications increasing their skills and enabling them to mentor others in the future.
Andy Beadsley, Director of The Wheelyboat Trust, explains: "Without accessible boats, disabled people are largely denied experiences that able-bodied people take for granted. Wheelyboats enable disabled people to participate alongside and on equal terms with their able-bodied counterparts. Over the thirty-five years of this charity's work, it is great to see how our designs are really impacting people with a wide range of sensory, learning and mobility impairments. The Conway Centre is a great example of our nearly 200 Wheelyboats distributed across the UK, where this new V17 will really change the lives of lots of people in the local community."
Jon Gamon, Chief Instructor of SEAS at Conway Centre, says: "For quite a while we had been looking at various boats and systems that would allow our participants much greater independence – none of which we were particularly happy with until we met Andy and trialled the Coulam Wheelyboat V20. The Coulam Wheelyboat design ticks boxes on a number of levels for us: it will allow us to access to the Straits at low water when we cannot use our pontoon (we have up to 6m of tide) and it will instantly double our capacity. The bow door and clear deck will enable more and varied activity in her role as a safety boat allowing people with limited mobility to enjoy paddle sports as well as sailing. Most importantly the V17 model will play a core role in making the group sustainable long term by enabling the disabled participants to become qualified to run the activities themselves. As soon as you step aboard the boat it is obviously well built with quality materials and attention to detail. She is the real deal designed without compromise."
Tune into BBC Countryfile on Sunday 17 March at 19:00 on BBC One to find out more, and tweet along using @BBCCountryfile and @WheelyboatTrust